WELCOME TO OUR NEW WEBSITE! PLEASE BEAR WITH US AS WE ADD MORE CONTENT.
Simply Golden Puppies - We Bring Love To Your Home!
AKC Top Quality Golden Retriever Puppies For Sale
We have one Female pup and three Male pups available. These 9 week old pups know Sit, back up, leave it, and have been groomed to be therapy dogs. They are exceptionally beautiful and very smart. 913-980-5871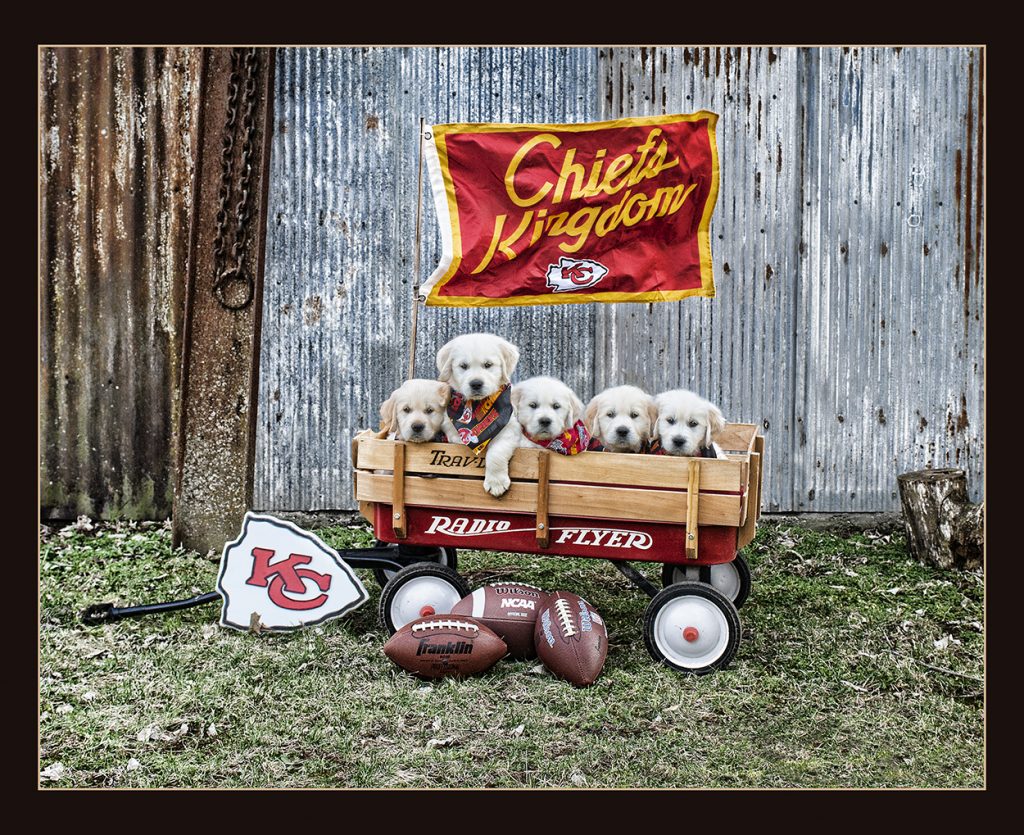 KC Chiefs!
1 Female and 3 Male puppies available. 913-980-5871
At Simply Golden Puppies we raise the most beautiful, premier, English Cream Golden Retriever Puppies in the US! Our dogs have International Champion Bloodlines from 6 countries, are AKC registered, have Exceptional Health Clearances, Beautiful Blocky Heads and Fun Dispositions. Our never kenneled, well loved puppies make the perfect family dog! We are located in the Kansas City area however our puppies are adopted all over the United States.
We specialize in English Cream Goldens, some puppies are pure white others have the beautiful Butter to light brown color mixed in. We accomplish this by keeping the darkest female in the litters who deliver White puppies, Butter color with white highlights and light brown puppies with butter and white highlights. They are all beautiful!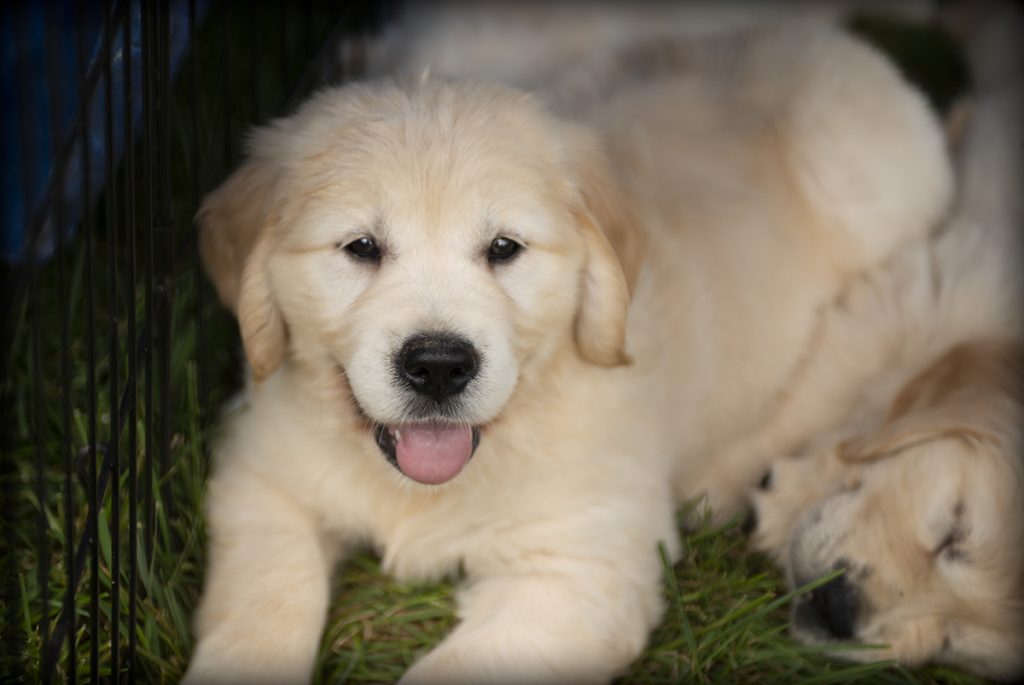 As of March 1st 2023 We have a few Male and Female puppies available - 8 weeks old.
We are beyond excited about our 6th generation of puppies! These 8 week old pups are 90% potty trained, know the command sit and are working on backup, be gentle, and overall have extraordinary manners for this age of puppy. We are SO proud of all of them! Besides that the pups are Beautiful!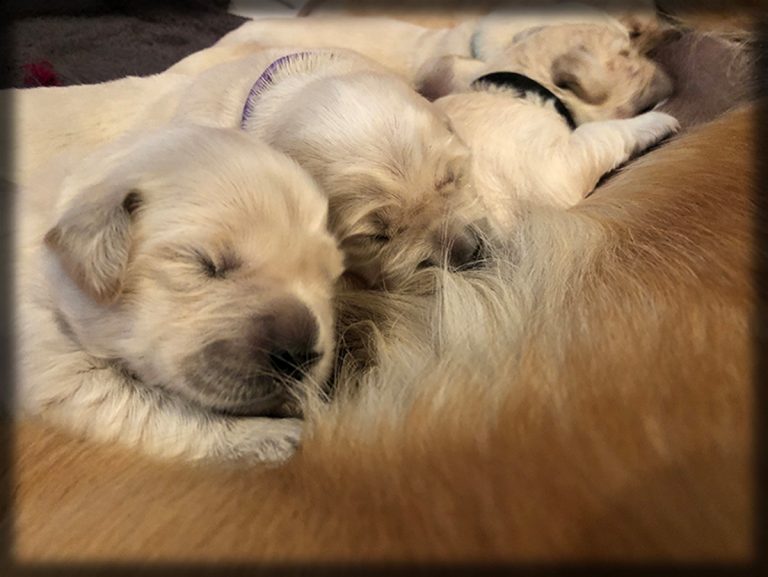 Champion blood lines from a trusted breeder
There are many options when looking for a Golden Retriever puppy. At Simply Golden Puppies We believe that Golden Retriever puppies and their mommas deserve a lot of love and attention. If you have ever had a Golden, you know that they are happiest when they are with their people. For this reason we keep our breeding program small. Our goldens are pets first. They are never kept in a kennel and spend a lot of time by our sides. We believe that if our momma's are happy the babies are happy too.
The litters of Greta and Kate mark our sixth generation of puppies. We know very well how our puppies turn out. Our puppies have championship blood lines from 6 separate countries. That makes their gene pool phenomenal! You can expect a beautiful, healthy, very smart dog with therapy soft fur and blocky heads. They are devoted and loyal with very fun personalities!
While environmental factors play a big part in the health of your golden retriever you can be sure that we have done our best to ensure your puppy gets the best possible start in life. All of our personal adult goldens have lived past 12 years old with several living to be 16 years old.
Our Puppies are vet checked healthy and vaccinated before going to their new homes and are sold as family companions with limited (pet) AKC registration.
Why a Golden Retriever is the Perfect First Dog
A golden retriever puppy is an excellent choice for those who are looking to get their first dog. The golden retriever is even-tempered, intelligent and affectionate. Golden retrievers are playful, yet gentle with children, and they tend to get along well with other pets and strangers. They're easy to train, and they have a lot of personality. Here's why we think this breed makes an ideal first dog:
Our Golden Retriever Puppies are smart – The golden retrievers are very intelligent dogs that can learn quickly. If you are consistent you can teach them very precise things like staying off of the carpet unless they are invited on it, waiting at an open door until they are invited in, not to bark unless there is something important to bark about.... Because they are so smart, they can also learn to "work " the system so praise and being consistent is key. Goldens are eager to please and like to work which explains why they respond so well to obedience training and are such popular service dogs. Many of our puppies have gone on to be service and therapy dogs.
Our Golden Retriever Puppies are loyal – Golden retrievers are extremely loyal dogs. They were born to please you which makes them the best companion dog and another reason that they can be wonderful therapy or emotional support dogs.
Our Golden Retriever Puppies are great with kids – Golden retrievers are great with children! They seem to instinctually know how to interact with them. This means that if you've got young kids at home, then you should consider getting a golden retriever as your first dog. One of our last customers had a one year old who tripped and fell in the grass. Our 12 week old puppy went carefully up to him, bent his head down to his face as if to ask if he was all right. It melted all of our hearts! Long ago my Daughter learned how to walk by pulling up on our first Golden Retriever.
Our Golden Retriever Puppies are funny - They have the best personalities! They are loving, loyal, goofy, playful, gentle, and bring so much joy to our golden families!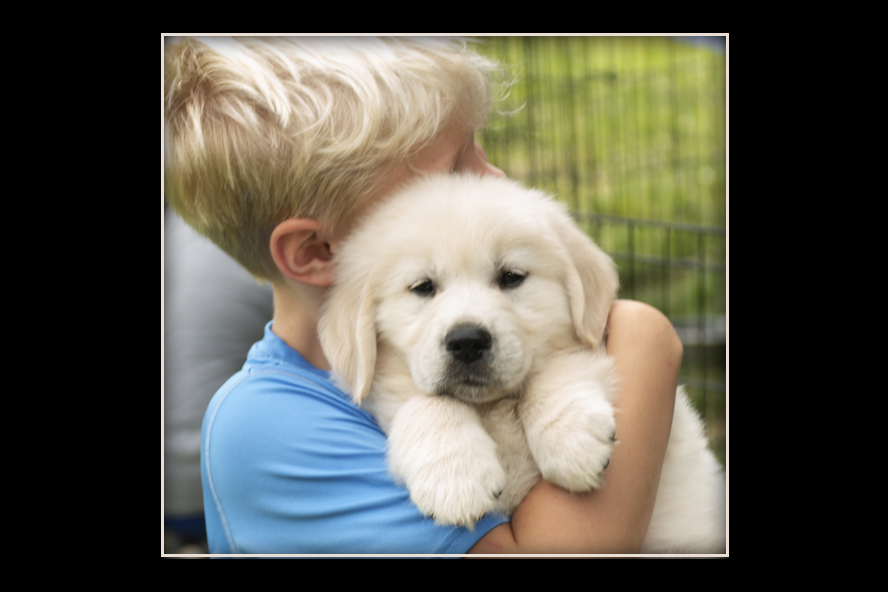 Living With a Golden Retriever- Golden Retriever puppies like to be active. They are bird dogs at heart, so they love a good game of fetch or a swim. If exercise is provided daily, golden retriever puppies can adapt to any type of home, even if it is a city apartment.
History:
In 1999, the golden retriever was the second most popular AKC breed. This ranking is no surprise, because the dog has many qualities that make for a perfect family pet.
The golden retriever's roots are in the fields and waterways of Great Britain. The golden retriever was bred to be a bird dog, particularly for hunting water fowl, and the breed resulted from crossing a number of other breeds thought to include spaniels, setters, and the Newfoundland (but not the Newfoundland we know today), and perhaps even a bloodhound. The combination created a hardy, strong swimming dog that could withstand cold water, track wounded game and deal with crippled birds.
Today, golden retrievers are not only good bird dogs and family pets; they also are popular as service dogs for the blind and disabled, and as search and rescue dogs and contraband detection dogs. Few dogs can claim this breed's versatility.