Our Golden Retriever Family Through the years
We are one of the few breeders around who can claim five generations -our next litter of puppies makes six- We know our dogs and how our puppies turn out.
Every generation we choose a stud who is a good compliment to our female. We choose on health, personality, bloodlines ( we now have had champion bloodlines from 7 separate countries in our lines ). This helps to ensure good health, beautiful bodies, therapy soft fur and very smart puppies. Take a look to see who your puppies have in their family tree and we know you will be impressed.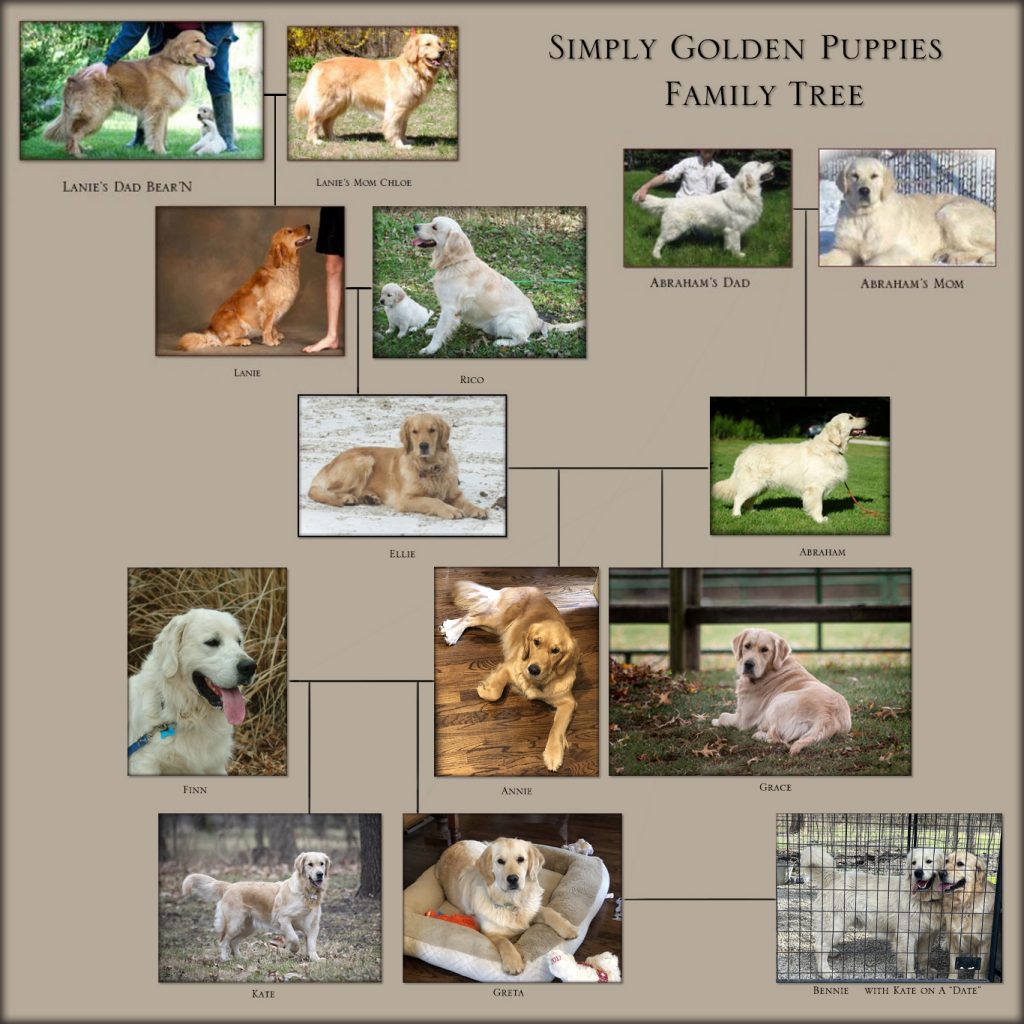 Our Breeding History
Simply Golden Puppies started out 5 generations ago when Muffet's son Reagan adopted a beautiful petite American Golden momma named Chloe and bred her with an American Champion Golden retriever Stud named Bear'N. They gave us our beloved Lanie. She was named after Muffet's mom who passed away on the day she was born. Muffet, a master photographer, continued breeding on a small scale to carry on our remarkable bloodlines when Reagan moved away.
We started choosing English cream Studs from different countries to match with our females for the health of the diversified bloodlines their beautiful boxy heads and calm dispositions. The females that we choose to keep were chosen for their beautiful heads and bodies, their fun, devoted personalizes and usually their darker coats. We wanted to keep the beautiful mixed colored fur in some of our pups.
We choose to stay small, breeding only one or two females a year, because we know that it takes a lot of time and love to do the best for our dogs and puppies.
The puppies spend the first three to four weeks in our home then graduate to our indoor / outdoor barn area where they have more room to run and play.
At three weeks of age until they are matched with their families, we start working with the puppies on pre service dog therapy training, beginning manners, and potty training. What this does is teach our puppies to anticipate what you want to teach them. Intelligence runs in their blood lines but this helps them accomplish things earlier.
One of Greta's brothers became a hearing service dog at age 11 months. Usually this type of training does not start until they are over 12 months old. Many of our puppies have gone on to be therapy dogs in Alzheimer's homes, therapy dogs in schools, and therapy dogs for individuals struggling with Autism, depression and loneliness.
Their fun and loyal dispositions are great no matter what your reason for wanting a golden retriever may be.
In 2019 we had a big snow storm. I had a chance to take Annie and Grace out in the snow with my camera. I hope you enjoy the video of the dogs and snow at our home.