A few words from our clients
I am so grateful to have met Muffet. I couldn't imagine a more heartfelt experience when getting my dog Tucker! She spent significant time with me on the phone before we met…attending to all my needs and questions. As soon as I pulled up to her home to get Tucker I knew I would only get my dogs through her. Muffet breeds beautiful, intelligent, well-tempered dogs. I am blown away by my puppy at only 14 weeks! I highly recommend Muffet when purchasing your furry friend. I am lifetime customer! Erika , President Braver Staffing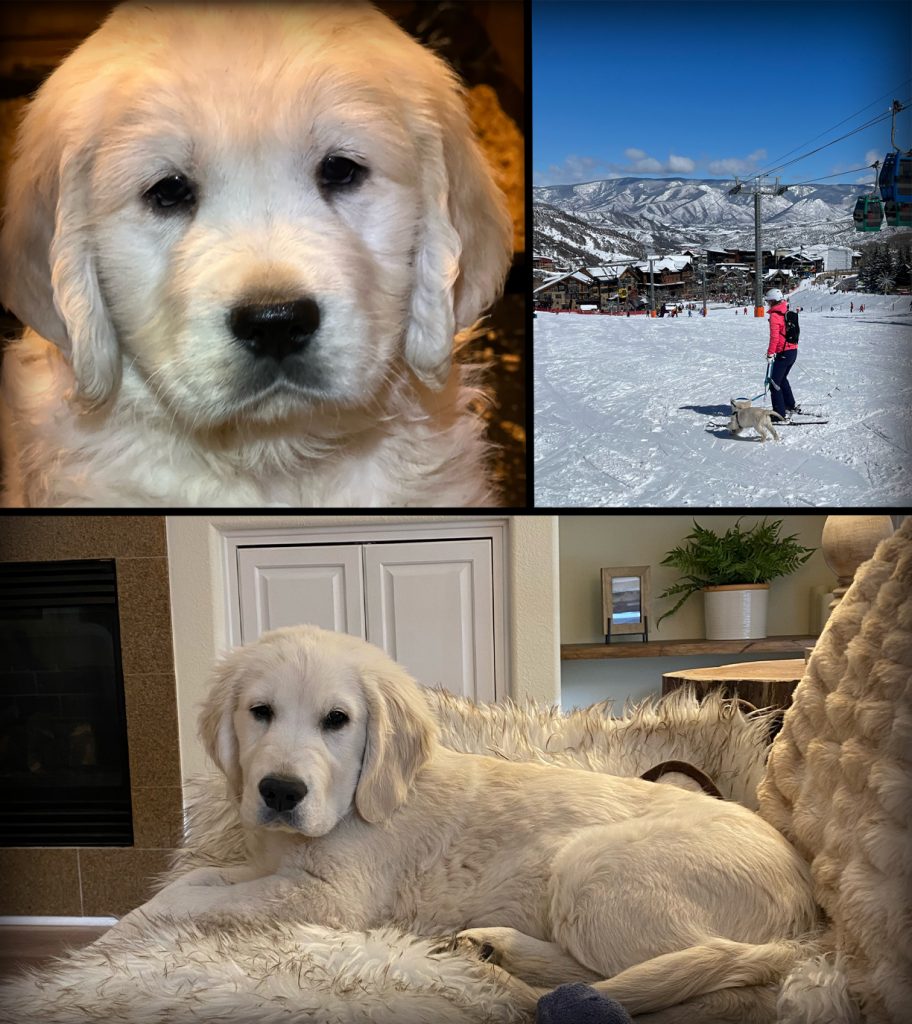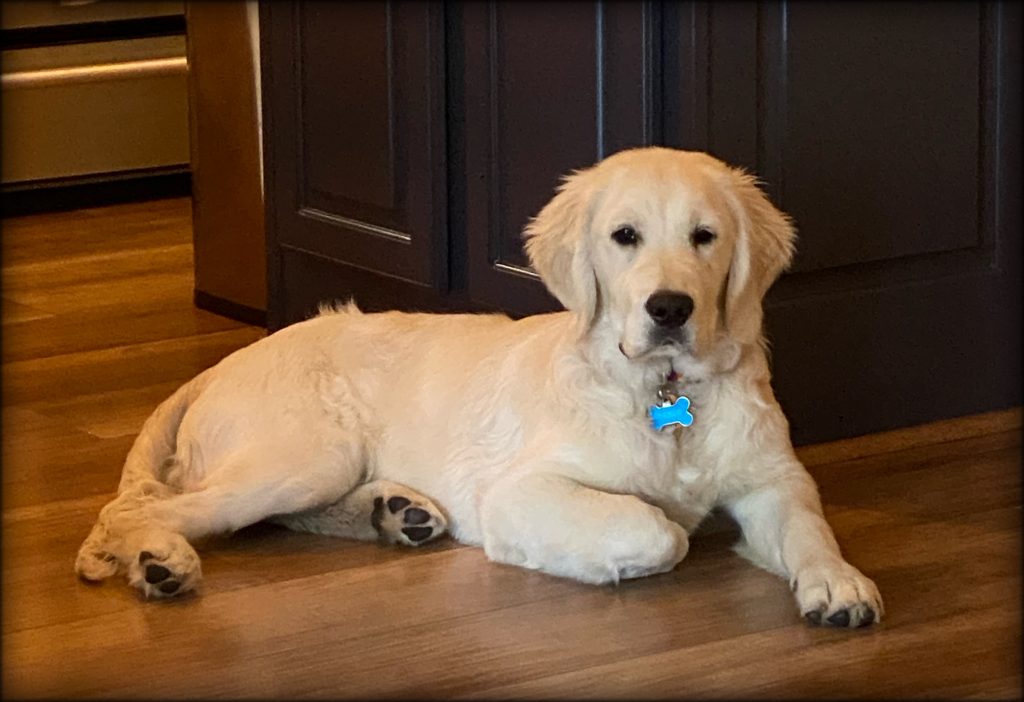 We love our sweet Jasper! He is such a smart boy and fun addition to our family. He loves frisbee and taking us for daily walks. He always knows when it's time to go! He enjoys doggy daycare and is everyone's friend. He is such a blessing and we are grateful for him! You have cultivated a lovely line of dogs which are very valuable!! ????????. We have been so happy with Jasper he is such wonderful companion! Thank you again for him! ????????????. Heather and Rion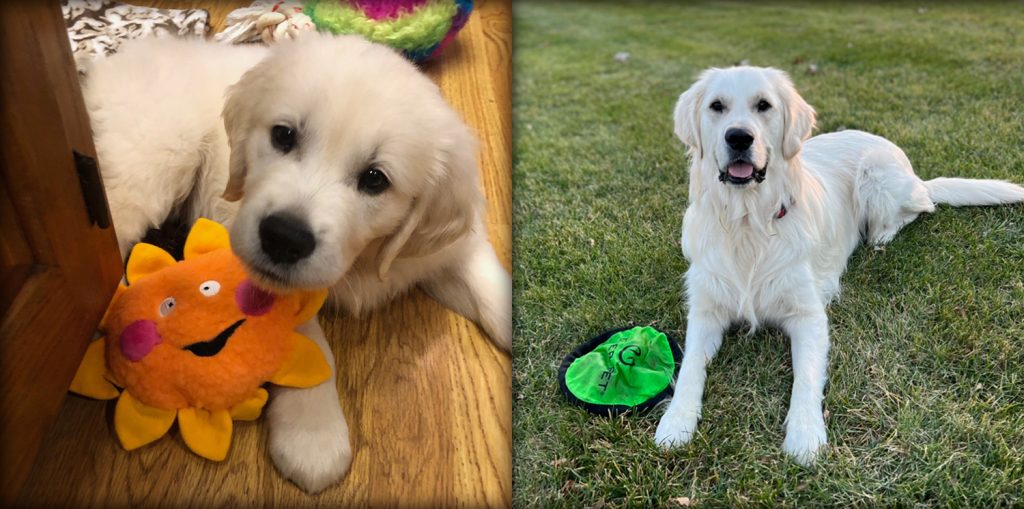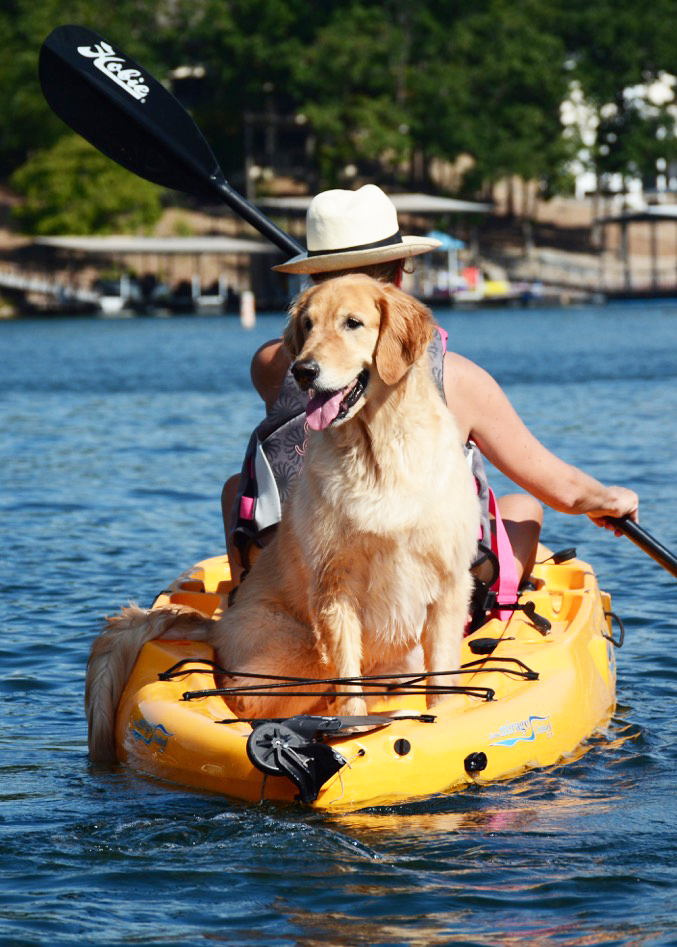 Our sweet Bear is 8 years old. He is sweeter than we ever could have imagined.
He's such a sweet, healthy, playful, gentle and beautiful Golden who has completed our family. We couldn't have asked for a better dog. He's been nothing but an absolute joy.
You can tell from his sweet disposition and gentle nature that he has been loved his entire life! Thank you so much Muffet!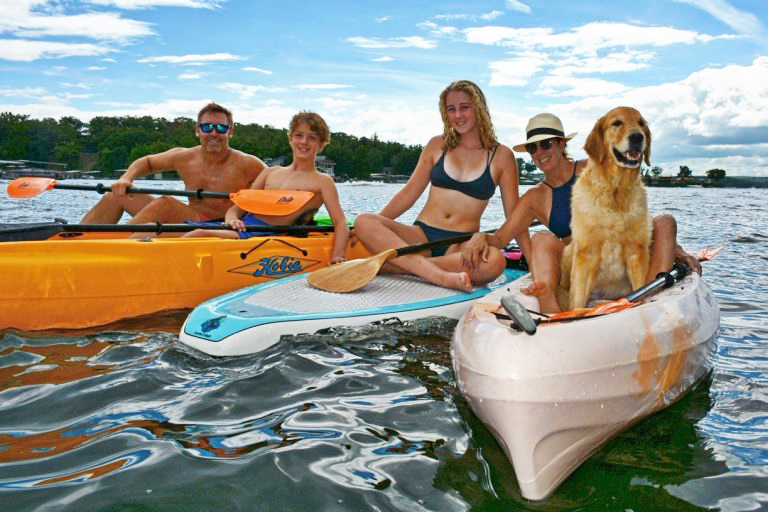 Our Goldens make great family dogs, they love
to be where their people are!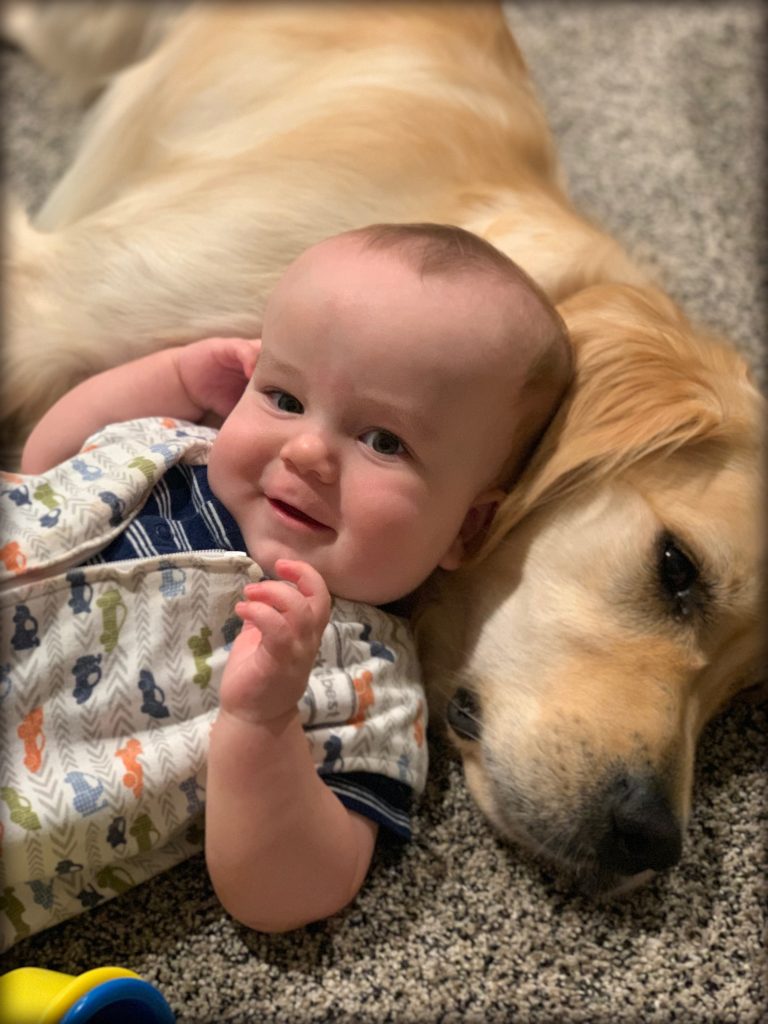 Hey there Muffet! Here is a photo of Waldo and JJ hanging out!
Waldo is the best dog brother we could ask for! Brian
Charlie and Buddy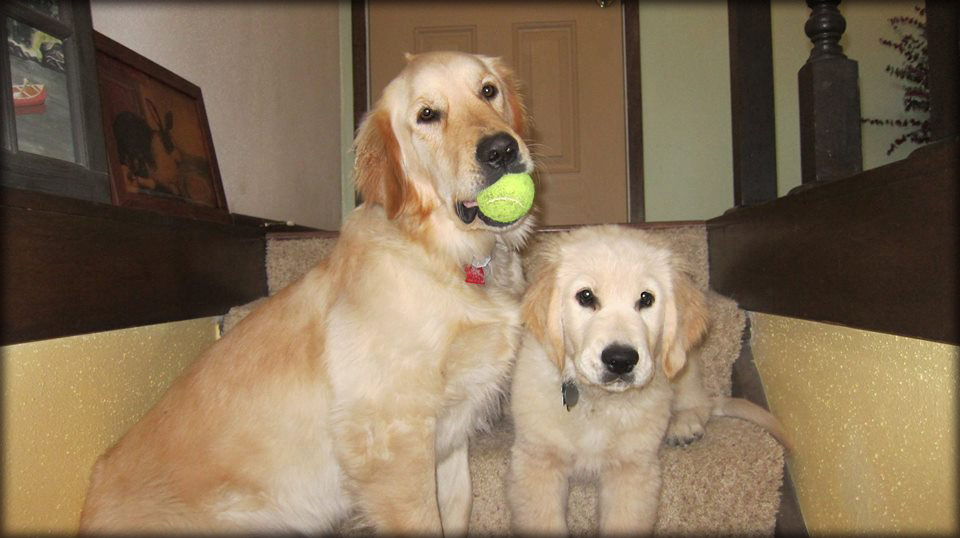 I have purchased two puppies from Muffet. The oldest is Charlie. He is five. His younger brother is Buddy who is now three. They share the same mother, but different fathers. C and B are wonderful, beautiful, smart dogs each with their own distinct personalities. The are inseparable. They have been very healthy. I was committed to taking my time and to vetting breeders extensively. During the next year I researched, talked to on the phone, met with dozens of breeders. I knew I was looking for a breeder that bred only Golden's, one litter at a time; who knew the health history of the parents, who was willing to say no to a potential buyer they felt would not be a good match for the puppy, who brought the puppies into their home and played with and loved on them. Some breeders were good. Some were scary bad. One was exactly what I was looking for in a breeder…Muffet. I have recommended Muffet to a number of people and no one has been disappointed. Muffet is an exceptional breeder paying very close attention to heredity ( keeping health problems at bay ), temperament, mother's health during pregnancy and socializing and loving the pups after birth.
Joe McKenna
Hi Muffet! This is Julie, thought I would share some photos of our girl Palmer on her first birthday. I can't tell you how much we've enjoyed having her as part of our family. You breed the most beautiful dogs.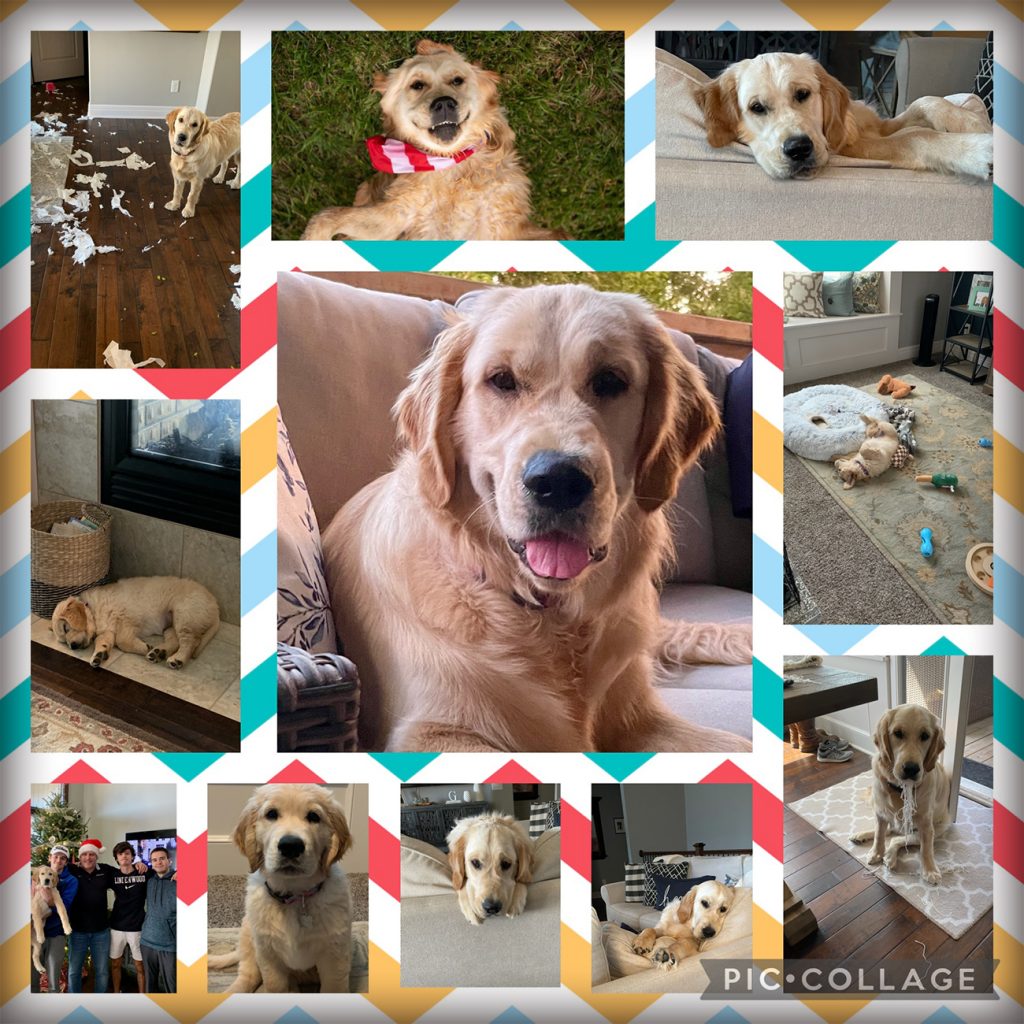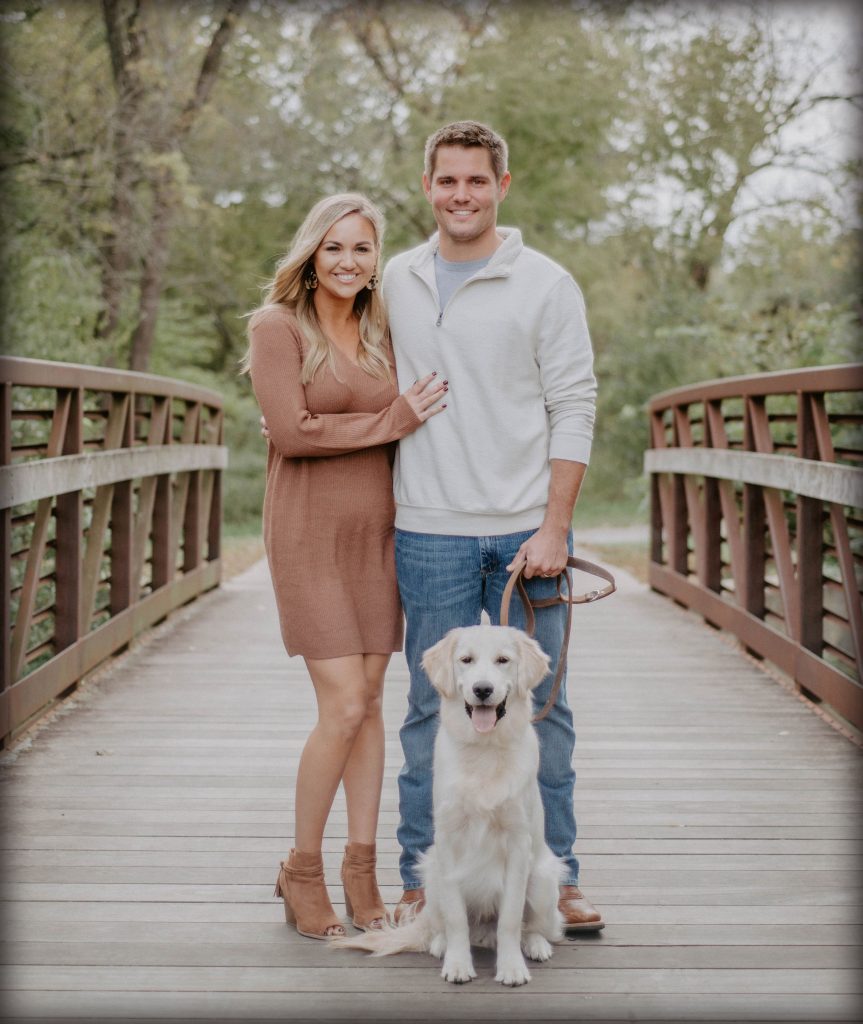 Hi Muffet! Just wanted to share our holiday card with you ☺️ this is us with Teddy (from the February litter) he has brought so much JOY to our lives and we are just so thankful for him so thank you!!
Dear Muffet, The puppy is doing great! We named it Robbie. It is fun, funny, smart, surprising... Thank you a thousand plus times. It has a wonderful temperament and it often seems you have already trained it for us. I can somehow see all the great care, thought, love happiness, hard work and expertise you gave it the first seven and a half weeks of his life. Thank you so much Muffet! Sincerely and warmly, Sue and Kurt
Dear Muffet, Today is Robbie's birthday. He is such a great dog. He is such a quick learner and great companion. Our neighbors all love him too. Our vet said, " What a beautiful dog." We are so grateful for Robbie and feel such gratitude to you. Sincerely, Sue and Kurt and Robbie who is laying right by me.
Muffet, I can't thank you enough, you have been a pleasure to work with and we are already so in love with our little guy. You are the best! Thank you for sharing one of your adorable little puppies with us! Mary
Emma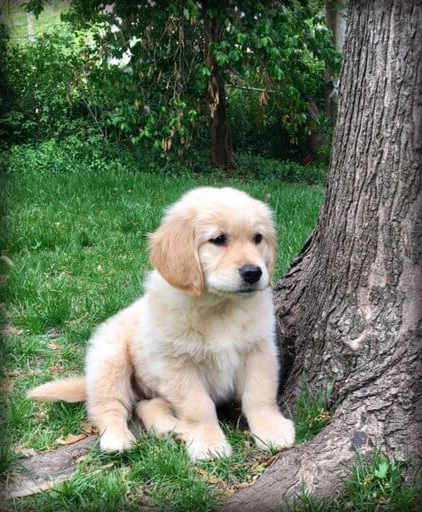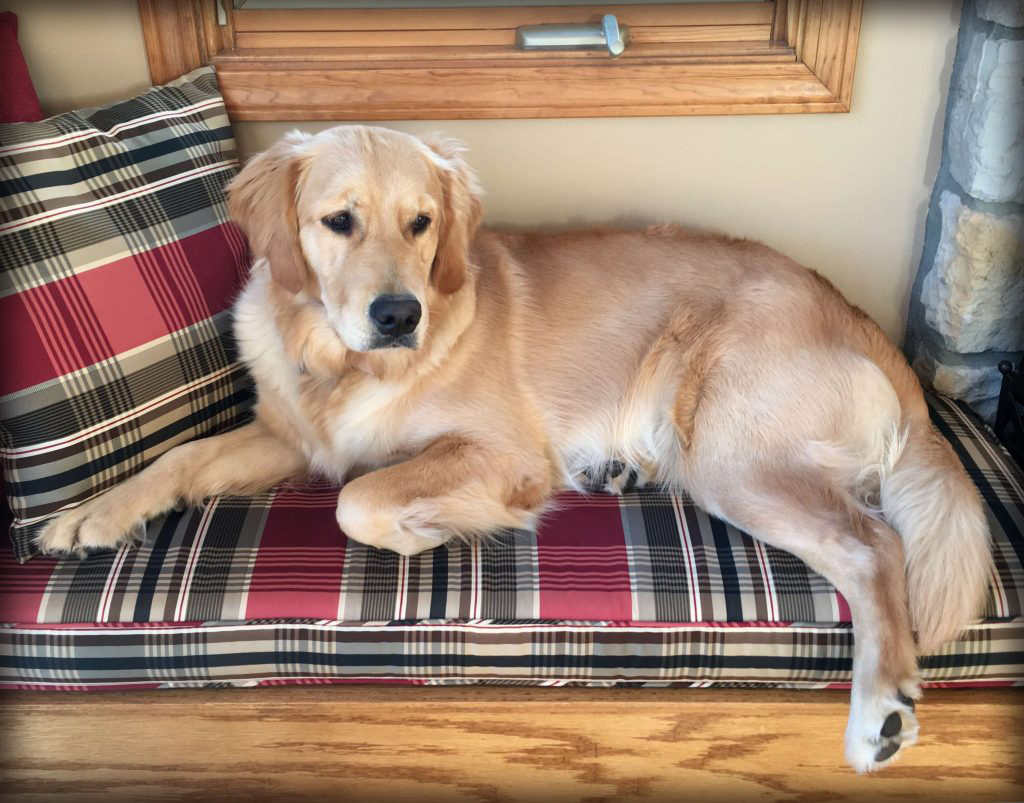 Almost two years ago our hearts were captured by a darling puppy we named Emma. She is a fun-loving gal who enjoys our good sized back yard but is just as comfortable lying quietly next to us. She is teachable and obedient and loves catching frisbees. We frequently get compliments on her good looks. Thank you Muffet for being a responsible breeder who cares about the future of her dogs. Christine.
A conversation from FB
Georgia is one of Muffet's Pups, they are the absolute best! We love this little girl. Donna - Texas
We have one of Muffet's puppies too and we are having so much fun with him! He is a goof, a gentleman, a lover and did I say a goof? Muffet's puppies are awesome and worth every bit she asks for them. Nancy
If they are any thing like Daddy, they will be the best dogs! Daddy is our 8th dog and he has surpassed them all. We live in a big development now and we pass a lot of people out walking. I can't tell you how many people tell us how beautiful Daddy is. There are a ton of Goldens all over but Muffet's pups do stand out. Jane
It't true! I have people see us at the dog park and comment about how beautiful Sophia and Mya are. Golfers often comment also. They are so terrific! Jayne
We brought home Cane almost 8 years ago and Tick almost 4 years ago from you. Cane enjoys working hard as a therapy dog and Tick enjoys playing hard and making us laugh. We recently took them on a 2 week car camping trip to visit friends in Oregon with stops along the way in Wyoming, Idaho, Washington, Montana and South Dakota. We had a great trip and they did great!
Lucy is a very happy, healthy dog. We adore her - she makes us laugh every single day. We have a big back yard and she plays fetch like it's her job - so much fun to watch her run! We're thrilled with her! Sweetest temperament in the world! Nicki
Dexter has been the best dog in the 2 1/2 months we have owned him. Of course he has his puppy moments but he is the sweetest dog I have ever owned. From the moment he came home he has acted like he belonged with our family. At his 15 week check up he weighed 42 pounds and the vet thinks he absolutely gorgeous. Regards, Don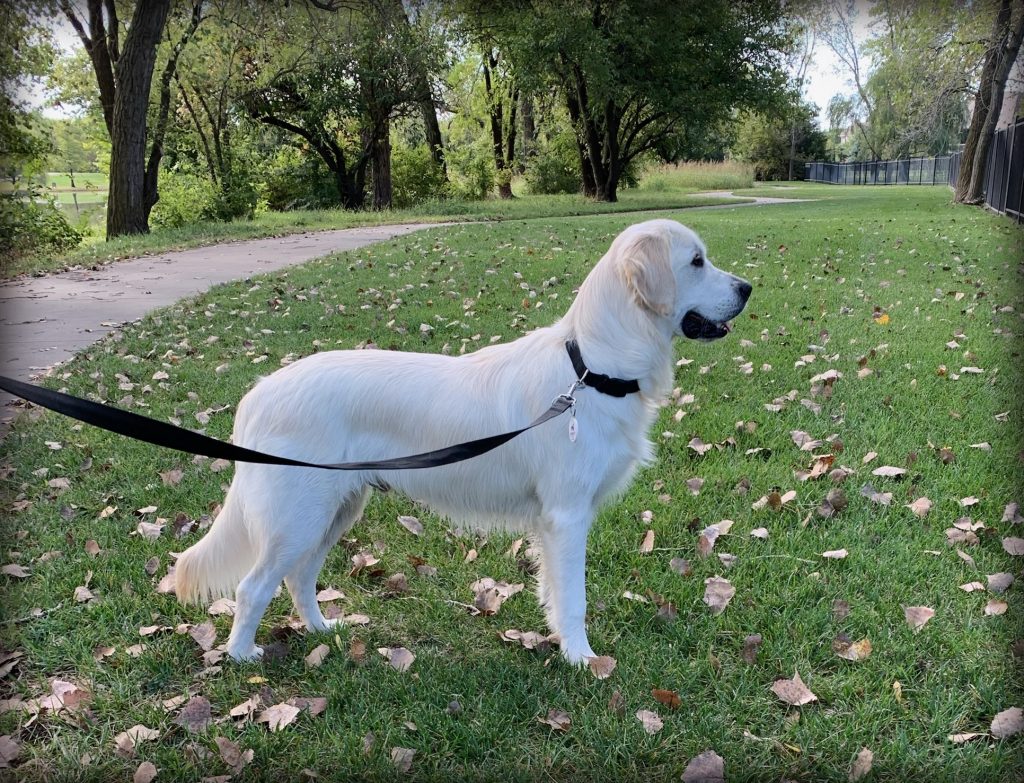 Murphy is known and loved throughout the neighborhood! Made it through second level of training with flying colors. He makes us laugh everyday and we couldn't imagine life without him. ????. He's perfect….Almost! Lovable, Needy, Funny and crazy! He is the joy of our life! Can you believe how beautiful(handsome) he is!
Still THE MOST LOVABLE dog I've ever had! And I've had my share of great dogs! Sharon and Jim
???? Murphy! I just wanted to update you. STILL the most lovable golden I've ever had! He has matured so much the last 3 months and knows the dos and donts. He's a very good boy. Lol! He's a whopping 85+ lbs and still very food motivated???? oh and yes, he's king of the furniture. He LOVES. Fetch and let's Jim and Riley know when it's fetch time at 3:30 without fail! A silly habit he and I have is first thing in the morning we sit in MY chair and share a graham cracker and then he literally lays his head on my chest and gives me a hug???? needless to say I could share countless stories. Hope you and all your beautiful dogs are doing well! Sharon
Hi Muffet, I just had to send you a quick message as Maisie is 7 months old today. She is growing up! She is just the best puppy. My kids are in love with her and call her " the best puppy in the whole world!" She is just the right mix of smart, funny, spunky, affectionate and easy to train. Thank You!!! Heather
We are really enjoying Max. He is such a special little man. He is enjoying puppy kindergarten in Hutchinson and will probable move on to Obedience training after that. We walk from 5 – 7 miles a day and he is such a joy. So full of wonder. Sometimes he just parks himself down to observe the birds, swans and other animals (dogs, cats, geese, etc.). He really is fun to have around.
It's been many years since we've had a puppy in the house and we are just having the time of our lives. I guess it's just puppy love………….Thank you,Steve & Dianna Swatsenbarg
Oh my goodness…we are so very pleased with our Little Annabelle on the Prairie! You were right-on when you said she almost had "sit." We went with the momentum and now have her sit before eating, coming out of the exercise pen, and before going outside! She is just amazing! The other most welcome gift is that she has never had an accident inside the house, ever! She is so sweet and really attentive to our movements. I really feel like God lead us though this journey…Just Amazing to meet such nice friends along the way. Thanks so much to you for helping us find a great match for our family. With a very grateful heart, Nancy and family
Haley was such a gift – we just love her personality! Doug
Hi Muffet, we've had Ellie for one month today and she is just a joy and a Godsend, literally. Thank you for keeping me in your files and following up so that we could have her! Ellie is such an Angle, we are still looking for wings! John says they just don't come any better!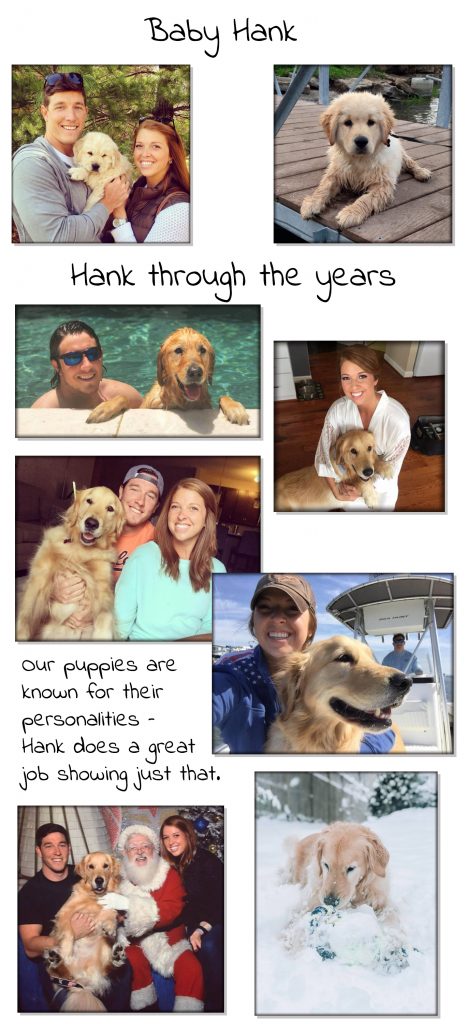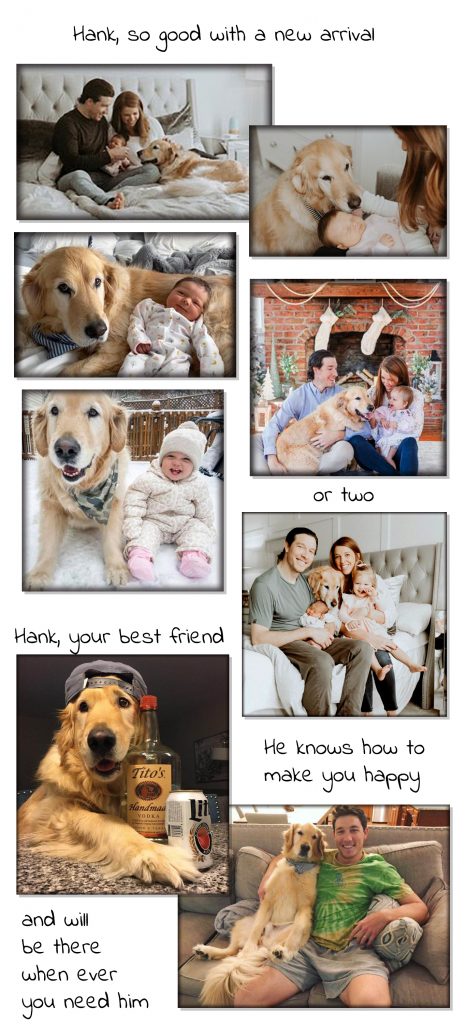 Hank is an absolute joy and we're so lucky to have him! Thanks for raising such great pups! Katie and Ryan
We are thankful to Katie and Ryan for taking so many fun pictures of Hank through the years.